Summer is just around the corner and it will soon be difficult to sleep through the night. Some nights it will even be real torture … In The Bed Centre, we know that, when the thermometer goes up, the warm duvets and covers are just not needed and you need to adapt your bedding to the new weather conditions; only then can you fall asleep and recharge your batteries for the following day.
Not all homes are lucky enough to have air conditioning, according to the Spanish Statistics Office only 35.5% have A/C, which is why it is important that you condition your bedroom well with the arrival of the hot summer nights. 
So, if you are a little confused and you don't know how to prepare your bed for the summer, we have prepared a few tips so that you can get a good night's sleep during the summer months.

What bedding to choose for the arrival of the good weather?
With the arrival of summer, what we want most is to be able to sleep fresh and cool every night. So take off your pyjamas, open the windows, plug in the fan and lighten the bedding because the inevitable tropical nights will arrive.
But, in addition to conditioning your room, you also have to prepare the bed for the heat properly, as many normal coverings will no longer be needed or wanted!
Summer bedding
Bedding, in addition to keeping you warm, is a decorative element in your bedroom. But when the heat hits, we don't actually use any of the bedding.  Have already started to sweat just thinking of sleeping with a duvet on top of you?
However, some people do not like to see their bed so under-dressed. If this is your case, do not worry because there are solutions that will help you preserve the decorative style of your room and, at the same time, enable you to sleep at night.
Pillows
If you want to have the best rest every night, you can't do it without using a pillow. Experts recommend its use because the pillow helps you keep your neck aligned with the rest of your spine.
But of course, in summer the pillow can be a source of heat and end up lying on the floor. If this is your case, it is best to use a pillow made of natural or synthetic fibres since they are the most breathable and, with them, you will get better air circulation on your neck and head.
If you want to know more about which pillow to choose we have already put together a guide for you Which is the best pillow for me?
Sheets
The best sheets you can have for the hot summer nights are ones made from 100% natural fibres. These are hypoallergenic and you will avoid allergies caused by excess perspiration.
Some of these fabrics are:
Cotton
It is well known that 100% cotton sheets are a great material for all sorts of reasons but above all, they offer freshness even when the mercury doesn't drop at night. This is thanks to their high breathability and pleasant softness.  This type of fabric is highly resistant and will last for many years and although it can be a bit expensive, it is without a doubt, value for money.
Silk
Silk is often recommended for the summer as it does not retain moisture. Silk is a very fine material that offers softness and mobility, which will allow us to enjoy an unequalled rest.  Silk is not for everyone however as its "slipperiness" can be disagreeable.  Others just love it.
Linen
You may think that linen is no longer used for sheets, but it is increasingly present in stores. Linen is highly breathable, which, together with being a fine and soft fabric, makes it perfect for use in summer.
In general, the more threads the sheets have, the fresher they will be and therefore better to use in summer. Still, if you get really hot at night, feel free to sleep on top of them!
A duvet or quilt
Cover up with a warm quilt or duvet in summer! It seems crazy just to mention it. Joking aside, these items have their advantages and disadvantages. With a quilt or duvet, your bed looks prettier, but on the other hand, they provide you with a lot of warmth.
So you have two options: either keep them in the wardrobe until the cooler weather arrives or remove them every night and put them on in the morning. Bear in mind though, that you can also dress your bed with beautiful and decorative sheets to match the style of your bedroom.
The mattress topper
The mattress topper is an element that helps you take care of your mattress, prevents it from getting dirty and protects it from dust. However, it will not help you at all in minimizing heat because the mattress topper is often waterproof and, as a consequence, does not facilitate the ventilation of the mattress.
On the other hand,  if you are a person who perspires a lot, then it is recommended that you put one on your bed, you will prevent sweat from damaging your mattress. If this is the case, try to choose a breathable mattress topper that guarantees air circulation.
The bed base
The base of the bed is an element as essential as the mattress. It gives you extra firmness and guarantees that you can sleep with ergonomic and healthy postures. But the base can also play against you in the summer.
The upholstered base is the perfect element if what you are looking for is an extra firmness, and in addition, is a very functional piece of furniture because of its storage capacity. But, nevertheless, the upholstered base is not the best option for the summer since it makes it difficult to ventilate air through the mattress.
If what you want and need is to have great ventilation that helps mitigate the heat, it is best to opt for a slatted base. 
Finally, all these recommendations will be more effective if you use a breathable mattress to sleep on –  the best option here is a pocket spring mattress. So, if you need to change the mattress in your room, take the opportunity and buy one that guarantees great ventilation inside.
Colours
Although it may not seem particularly important, the use of colour has a lot to do with bringing freshness to a room. You should choose colours for your sheets and bedspreads that work against the sensation of heat.
White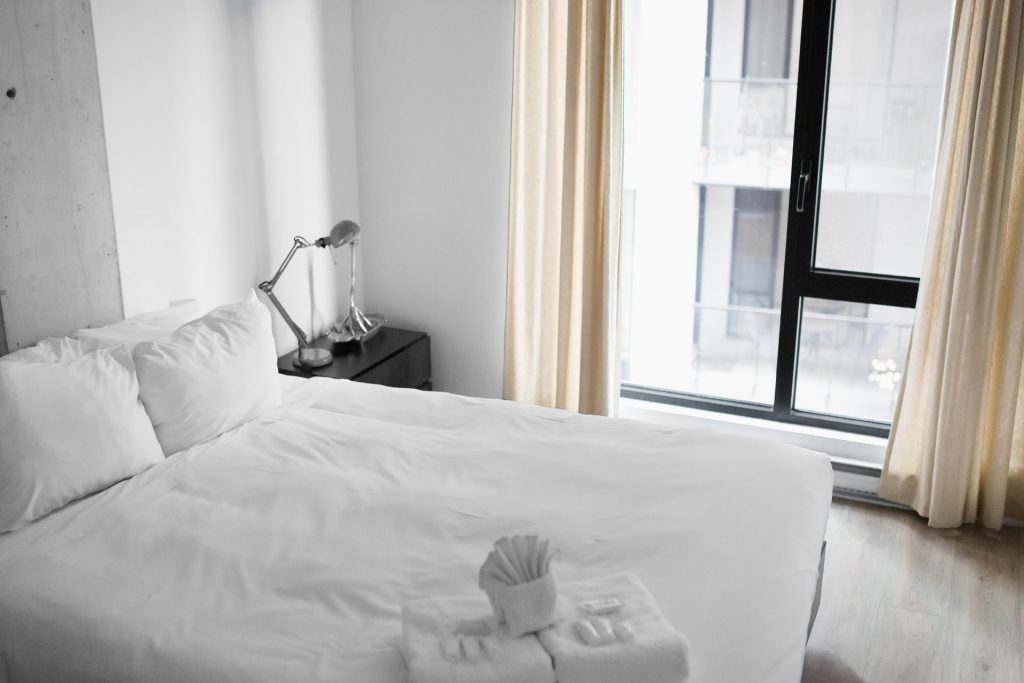 This colour can be considered the coolest of all. In addition to freshness, it also transmits peacefulness to the room.
Blue
This is a colour that makes you think of the sea and projects stillness and perhaps a cool breeze. The combination of white and blue for your bed is perfect for the freshness you need in summer.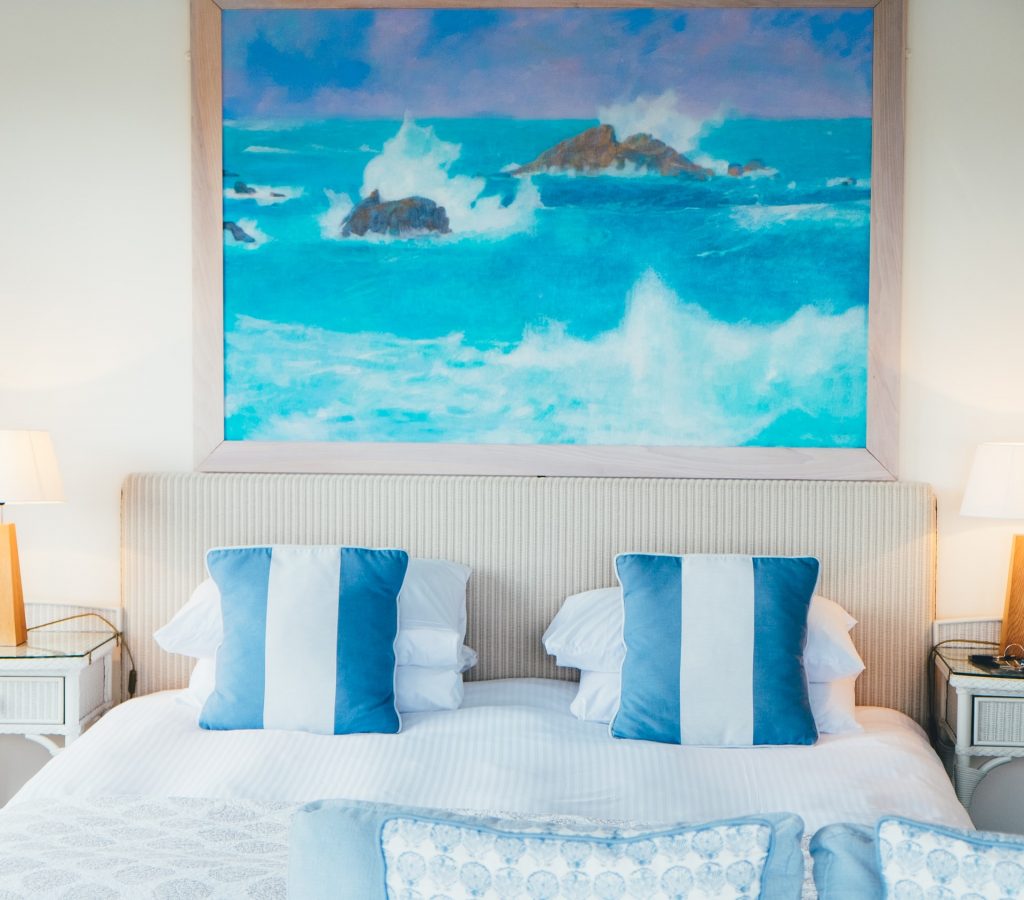 Neutral tones
We are talking here about tones of beige, vanilla and perhaps even muted silver or gold. In addition to the calm they transmit, these colours make your bed, and in general, your room, have a point of simplicity and elegance.