The lights go out and we start to dream. We slide between the soft sheets and when we close our eyes, nothing matters beyond enjoying a well-deserved rest.
This is how it should be every night. However, it is not always the case and not for everyone, that easy.
Many factors can play a role in poor sleep, but nothing you do will work if you don't start by paying attention to the quality of your mattress.
Changing a mattress once and for all will help you get a good night's sleep and that is why we have prepared this guide with the essentials about how to choose a good pocket spring mattress.
6 Characteristics of a good pocket spring mattress
Before choosing a pocket spring mattress, you must take into account these 6 fundamental factors to find the most suitable one for you:
The number of springs: for a pocket spring mattress to have a correct answer and provide a good rest, the number of springs should not be below 220 m2.
Spring quality: the higher the level of carbon concentration in the steel and the number of turns of the wire, the better the spring will be.
Small diameter springs: take into account the diameter of the springs, since the smaller the springs, the better they will adapt to your body.
Type of bagging fabric: the most used fabric is non-woven fabric, although high-end mattresses usually have cotton fabric bagging.
The connection between springs: the better the relationship between the springs and the type of bagging used, the greater the comfort and independence. If this is poor, they could lose their independence or break the bags by friction, exposing the spring.
The top layer: the quality of the material that accompanies the pocket spring block determines the performance of the mattress and its comfort. Normally, it is usually made of memory foam, although other materials such as latex or high-resistance foam can be added.
Choose the right material
Why pocket springs?
This type of mattress is still the favourite choice for millions of people around the world. There is an explanation for this: the springs have leapt forward in their construction and technology to give you a better night's sleep. These days a spring mattress bears little relationship to those old noisy and uncomfortable mattresses that ended up digging into your side.
Why are the new pocket springs different?
Each spring is individually encapsulated in a small textile bag. Thus, each one is completely independent of the others. Unlike older interconnected systems, pocket springs transmit neither pressure nor movement.
3 essential benefits of pocket springs:
The degree of ergonomic adaptation is very high, due to the flexibility and autonomous operation of each spring. The experience is superior because of the feeling of firmness and comfort coexist in perfect balance.
Pocket spring core mattresses have the best bed independence on the market. Sleeping with your partner is as comfortable as doing it alone. No matter how many times the other wakes up, gets up, or changes position, the movements are not noticeable.
They are highly breathable. The springs allow air to pass freely between them. The heat does not concentrate as it does in other types of cores, for example, foam or latex. Great for the Costa Blanca in summer!
Who can use a pocket spring mattress?
Pocket spring mattresses are recommended for people with back problems or in need of a very deep sleep! They are also great for the hot Spanish nights being more breathable than some latex or foam mattresses.
Pocket spring mattresses are very solid and durable. They are made to last many years and the proof of this is the extended warranties that good manufacturers often offer.
What to bear in mind when choosing a Pocket Spring Mattress
The height. Generally, higher means a higher range and more firmness. Layers "take up" space and cause the height to increase. A mattress of little thickness (less than 20 cm) will hardly be able to maintain an ideal firmness and adaptability.
Breathability. A person loses every night between 50 cl. and 1 litre of perspiration. After several years this amounts to a considerable amount of dampness. As we have seen, the springs are breathable in themselves but if you tend to perspire in bed, you must choose a model that incorporates technologies and systems that enhance ventilation.
The adaptability. It not only depends on the pocket spring matrix but also on the type of coating or contour that surrounds and protects it. For example, memory foam adapts perfectly to the body to distribute pressure points evenly.
The density. It is the number of springs for each m³. The higher this figure, the better: more sensitive and better control of movement and support. This directly translates into more comfort.
The firmness. It is not exactly equal to the density of the springs, since it also depends on other factors, such as the type and quality of the filling layers. Manufacturers are free to decide on the designation of the degree of firmness, there are no hard and fast rules, so the numbers are not usually helpful. It is better to be guided by adjectives such as "high", "medium" or "low".
Hygiene treatments: the premium ranges do not usually carry them, since their fabrics are already hypoallergenic. In any case, they are always a plus, since a mattress is not something that can be put in the washing machine (normally only the surface can be disinfected).
Practical advice for a good choice
Calculate: Before making a final decision, take into account the weight of the person or people who are going to sleep on the mattress.
Low firmness is only indicated for those who weigh less than 70 kg or if for a specific question, your doctor or physio has recommended a mattress of this type.
This point is crucial when you are heavier since the mattress must have all the properties that guarantee suitable support that does not sink or soften with the passing of the years. In this case, look for mattresses with medium-high firmness.
If each person in the bed weighs up to 70kgs, the soft spring tension is recommended;
between 70kgs and 102kgs, the medium spring tension is recommended; and
between 102kgs and 127kgs, the firm spring tension is recommended.
more than 127kgs, the extra firm spring tension is recommended.
Pocket spring mattresses are very flexible, so they can be transported in a box, compressed and ready to deliver. Don't worry, they can stay rolled up to 3 months without spoiling and without their qualities spoiling.
We have talked a lot about the importance of the interior, but the exterior of the mattress also provides a lot of clues. Always pay attention to the trims: the seams have to be strong, without threads out of place and the perimeter has to be well sealed.
Reject mattresses whose finishes do not look impeccable, with no snags or strange marks. Of course, the surface must be completely uniform, without lumps or cavities, and remain so over time.
If you want to keep your mattress in perfect hygienic conditions, never use it without a cover. You will have to buy it separately because almost no model includes it, but it is worth it. Remember that the ones that are fitted sheet type are much more manageable than the ones that encompass the whole mattress. Don't skimp: a wonderful mattress well deserves a quality, breathable, soft and hypoallergenic cover.
Our top 2 pocket spring mattress of 2021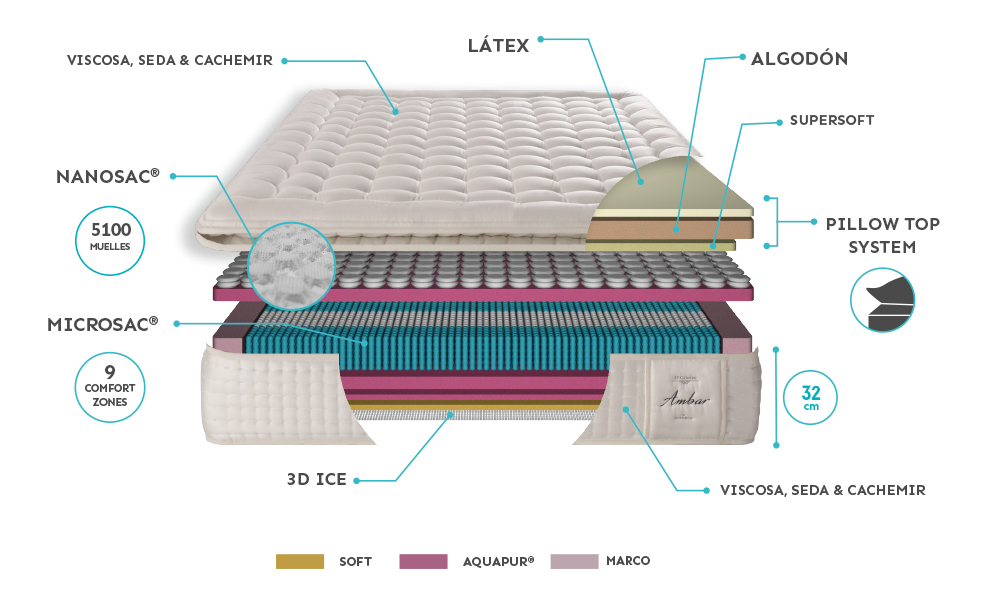 Ambar Mattress
Materials: pocket springs with pillow topper
Firmness: medium-soft
Breathability: high
Thermoregulating
After having slept several nights on this mattress, we are quite convinced that it is an "all-round" model in many ways.
Welcoming and adaptability
The structure is divided into nine different comfort zones. This makes a lot of sense, since, when lying on the bed, different parts of the body do not get or need the same support.
High quality latex and cotton pillow topper provide a real softness and as a consequence, relief from joint, bone and muscle pain. The manufacturer recommends it especially for those with lower back discomfort.
The combination of materials also extends the durability of the mattress, which, by the way, does not have to be turned over with the change of seasons.
With 1500 pocket springs you are ensured that you and your partner have a high degree of autonomy. It does not matter if your companion moves, gets up or lies down again, you can rest easy.
Quality
The high-end range is evident in the high attention to detail with hand-stitched sides and covering with silk and cashmere. Gomarco offers a 2-year warranty.
Chartwell Mattress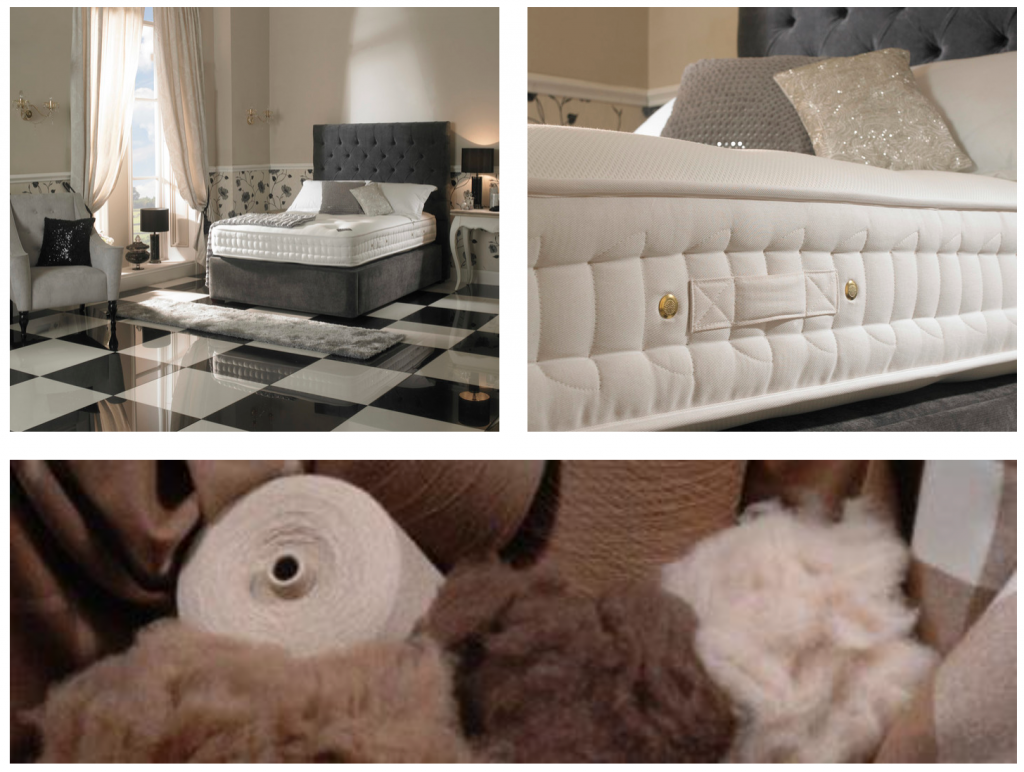 Materials: pocket springs
Firmness: medium or firm
Breathability: high
Thermoregulating
Imagine your night's sleep without tossing and turning, without mattress roll and interruption for your partner. Now, imagine this night's sleep every night! That is the Chartwell mattress. It takes a team of traditionally trained master craftsmen up to 2 weeks to make each mattress by hand.
It has 17 gauge individually hand nested pocket springs for luxurious comfort and great sleep. Each spring independently senses and supports your every move. Each 17 gauge double decker pocket spring is hand centred with twine and tied into a honeycomb nested unit which means double the spring count versus traditional mattresses. It also ensures no 'roll-together!
Obviously, different mattress sizes have a different number of individual pocket springs:
• Double – 2,528 Springs
• King – 3,064 Springs
Also, there is a unique spring support system. This provides extra strength and support to the sides of the mattress ensuring no 'roll-off.
The mattress border is 24cm deep and is tailor finished with 3 rows of genuine hand side stitching which secures the outer springs using superior natural Hessian insulator to the border at the top and bottom preventing 'roll-out'.
Each mattress is upholstered with sumptuous layers of soft and breathable natural fillings. The finest 1250 gsm bonded pure white cotton, long stranded rolled hair, Cashmere and pure new lambswool are used for long-lasting comfort, support and longevity.
In addition, the Chartwell mattresses have carry handles hand-stitched on each side in wool with solid brass ventilators finished with piped ticking.
Burgess guarantees all Chartwell mattresses for 10 Years.