Both of these are questions that we are often asked in our shop and online. Most of the time it is because people are suffering from neck, head and back pain or even because they are simply waking up tired. Here are some guidelines for choosing the appropriate pillow for you.
Like a mattress, a good pillow is the first guarantee of a good night's sleep. If you wake up with neck or shoulder pain, it may be time to change your pillow. 
Do you know how to choose the pillow that best suits you?
By choosing a good pillow, you will avoid:
Headaches, back and neck.
Snoring
Difficulty breathing
Sneezing at night
Pain in your arms
To get a good night's rest, the head, neck and spine must be aligned. The idea is for the pillow to contribute to a proper posture of the spine, so that the muscles are relaxed and you are in a good position to breathe properly. Of course, it is also essential to choose the mattress correctly, taking into account the weight, the position of the sleeper and the temperature.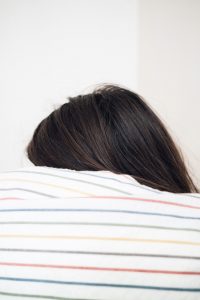 The basics – the height of the pillow:
A low pillow (10 cm) is suitable for those who sleep on their stomachs, and also for young children.
A medium pillow (12-13 cm) is ideal for those who sleep on their back. It should be lower than the shoulders and of medium hardness.
A medium-high (15 cm) pillow is ideal for those who sleep on their side to keep their head and neck well aligned with the axis of their spine.

A tip to get it right: in our shop, try to test the pillow adopting the position in which you usually sleep: check that the head, neck and spine are well aligned.
The pillow should ensure that the spine is straight and in a natural position.
Depending on the position you adopt when sleeping, you should choose a certain height or firmness.
If you sleep most of the time on your side: you will need a sufficiently thick and firm pillow.
If you sleep most of the time on your stomach: the best choice is a soft and thin pillow.
For sleeping on your back or those who change their position a lot: choose a pillow of medium hardness and thickness.
If you sleep on a pillow that is too thick or too thin, the cervical vertebrae don't adopt a natural posture. If this is repeated night after night, it can lead to neck pain.
There are hypoallergenic pillows for people with asthma, bronchitis, or allergies and there are also special pillows for people with severe back and/or cervical problems. The cervical pillows are anatomically shaped and are better suited than traditional to the anatomy of the neck.
It is important to change your pillow every 2-3 years, because after this time they begin to lose their initial properties.
Pillow materials
There are several different materials that pillows are made from:
Fibre
Fibre pillows are breathable, cool, and lightweight. They also have a great capacity to recover to their natural form. The fibre pillows allow air circulation inside, favouring the absorption of moisture. They are fully washable and are usually hypoallergenic and appropriate for people who sleep on their side, on their back, or if you change your position a lot. An example is the Contak Pillow.
Memory foam
Memory foam pillows have excellent adaptation and heat sensitivity properties. Memory foam pillows are often recommended for people with cervical or back problems. These pillows adapt perfectly to the shape of the head, providing greater support and favouring a complete cervical rest.
Latex
Latex pillows are breathable and anti-allergenic. Its texture is soft and pleasant and has the ability to recover to its initial shape for greater rest and maximum comfort. Its open-cell structure allows greater ventilation, hygiene and durability. It can be synthetic, of natural origin or a mixture of both. This type of pillow offers good head support, which makes it very suitable for people who sleep on their side or for large people. Latex supports movement well and is also suitable for those with allergies to mites.
Natural feather
These are especially recommended for those who sleep on their back or change their position frequently. The composition of the best quality natural feathers provides great softness, comfort and durability, as well as ensuring a perfect adaptation to any resting position. The pillows stuffed with feathers are soft but quickly return to the starting point. The Mash Duvet Basic pillow is a great example.
choose pillowBenefits of a good pillow
How to care for your pillow
Once chosen, you must take good care of your pillow, since you will extend its useful life, which can extend up to about 5 years. We give you some tips to achieve it:
Air the pillow regularly: open the windows before making the bed, and ventilate it well, at least once a week.
Turn it over often to prevent it from warping.
Buy a washable pillow: just wash it once or twice a year.
Use a protective sleeve.
Before choosing your pillow, read carefully the descriptions of the products to know their benefits and to know if it suits you.
Recommended pillows
We offer pillows of all types and top brands:
Two of our most popular pillows are the Mash Duvet Supreme Pillow and the. Mash Anti Dust Mite Pillow.
Mash Duvet Supreme pillow
The Mash Duvet Supreme pillow is a pillow model with excellent adaptability, enormous thermoregulation capacity thanks to its filling based on down and feather of the best quality and degree of firmness and medium-low height, ideal for sleeping on your stomach.
The Mash Duvet Supreme pillow has a 70% duvet filling, thus offering maximum warmth and the characteristic support of duvet.
Cover: 100% cotton down. Exterior partition 2cm.
Filling: 70% comforter, 30% feather.
Dry cleanable.
Mash Anti Dust Mite Pillow
The Mash Anti-mite Double-Cover Pillow is especially suitable for allergy sufferers – perfect for people sensitive to mites, bacteria and fungi. Ideal for sleeping on your side or your back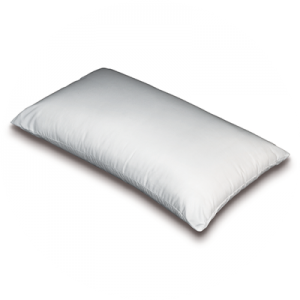 Outer cover composition: 100% cotton listed with Sanitized® anti-mite, antibacterial and antifungal treatment
Inner cover composition: 50% cotton and 50% polyester
Core: silicone hollow fibre Dacron® anti-mite, anti-bacterial and anti-fungal
Hardness: medium
Fibre volume: medium.
Double cover for easy maintenance and cleaning.
Removable.
Great durability and excellent comfort.
Soft and natural touch.