A mattress topper is a removable layer of cushioned material which is placed on top of your mattress and underneath your sheets.
In a similar way to mattresses, toppers come in a wide range of sizes based on bed and mattress sizes: twin, double, queen, king, as well as other sizes. 
Because mattress toppers are not directly attached to the mattress, it is not a bad idea to use a fitted sheet on your bed to make sure that the mattress topper does not move around during the night.
Replacing your mattress can be very expensive, so a mattress topper is a great way to revitalise your bed or make a new mattress last a little longer.
Do I need a mattress pad or a mattress topper?
First of all, it's useful to understand the difference between the various categories of products available for your mattress.
Mattress Pads
Mattress toppers are also sometimes confused with "mattress pads". While the two accessories share similarities, mattress pads are generally thinner, less durable and more intended for use during travel, sleepovers or camping. On the other hand, mattress toppers are thicker, provide greater support, and are more intended for permanent use.
Mattress pads might add some extra padding and comfort, but it's unlikely to be as much as a topper.
You can also find heated pads for use in the winter, and cooling pads for the summer if you have issues with overheating in bed.
Mattress Toppers
A mattress topper is likely to add a more significant layer of softness, cushioning or support for your body than a mattress pad.
It is a discrete thin cushioning layer made from various materials and with different padding and is placed on top of the mattress. They can be made from latex, foam, memory foam or natural fibre filling, and are covered in turn with a cover, which is usually washable.
The topper reduces wear on the mattress, protects it from dirt and gives it extra comfort when it comes to rest. They are usually between 5 and 10 cm thick.
You could conceivably even use both a pad and a topper at the same time to further improve the quality of your bed.
Key points to consider when choosing a topper
With so many different types of mattress toppers, the best approach is to understand why you want a topper 
Pain relief, firmness and extra support
If it's extra support for your back and limbs that you need, memory foam and latex are usually more effective than the other materials. They are better at holding the shape of your body and supporting your natural posture.
A partner that is always on the move
Mattress toppers are great at reducing the sensation of movement from your partner. If your partner is someone whose tossing and turning keeps you awake, a mattress topper may just be the answer.
Body heat and cold
Memory foam and latex mattress toppers tend to retain the most body heat – which in Spain may be the exact opposite of what you are looking for. Cotton clad wool mattress toppers have got good inherent isolation properties and can help both in the winter and the summer.
Allergies
As a mattress topper is easy to remove they are easier to clean than a mattress! Some come with removable covers which makes this even easier. By keeping them clean we can cut down on potential allergies from dust mite and other critters.
Factors to consider
Comfort and Softness
There is a large range of different materials and thicknesses that are used in mattress toppers. If you have thought through the reasons above then your decision about the comfort and the softness should be easier.
Do you want a mattress topper which moulds to your body, such as with latex or memory foam? Perhaps you want a naturally soft material such as wool or cotton?
In many respects, achieving softness is much easier than firmness with a mattress topper. If you want softness then we would recommend a cotton/wool mix.
Price
The higher the price the more likely you are to get quality in terms of manufacture. However not always will the higher price topper be the one for you.
Plain foam and some cotton toppers tend to be the cheapest. Higher quality cotton, feather, and down are more typically in the middle of the price range while memory foam and wool are generally top of the range and higher ticket items.
The thickness and density options
Toppers tend to fall in the range of between 3 – 5cm. If you need to bolster an ageing mattress, you sleep on your side, or if you have a few more kilos than the average person, you should explore the thicker options.
Also, the density of a topper is important in determining how much support it will provide you. Memory foam and latex toppers tend to have the most choice, allowing you to find just the right comfort level you need.
Guarantee
Many of the top range toppers have a guarantee of up to 10 years. You need to think of the life of the product
What type of material should your mattress topper be?
Mattress toppers come in a wide range of different materials, so it is important to know both why you want your topper as well as the material options.
Latex
Latex toppers are at the top range of the price range, but like memory foam, can provide excellent support and comfort.
Advantages
Excellent at providing comfort and pain relief at pressure points by cushioning your body. Good for keeping your body aligned.
Usually firmer than memory foam, but still feels comfortable.
Natural latex might have better resistance to microbe and dust mite build up.
Very durable.
Excellent at preventing motion transmission from your partner.
Usually not as hot as memory foam.
Disadvantages
Can be expensive.
Can feel hot in the summer if it isn't a high-quality latex topper.
Often quite heavy to move.
Memory foam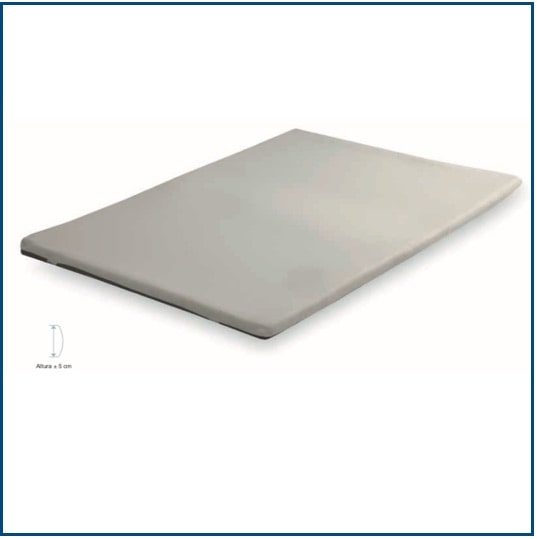 Memory foam is a very popular choice for both mattresses and mattress toppers.
As memory foam mattresses can be expensive having a memory foam mattress topper is a good way of having the advantages without having to pay a fortune.
Advantages
Memory foam conforms to your body and supports you as well as giving you a relaxing sleep.
It is great for back pain, muscular pain or joint pain.
It is great if you have a partner who moves around a lot when asleep.
There are various firmnesses available.
It is long-lasting.
Disadvantages
Memory foam sometimes has quite a strong chemical smell at first, though it dissipates after a few days.
You may find it holds body heat, so if you tend to overheat, look for a breathable memory foam topper.
Wool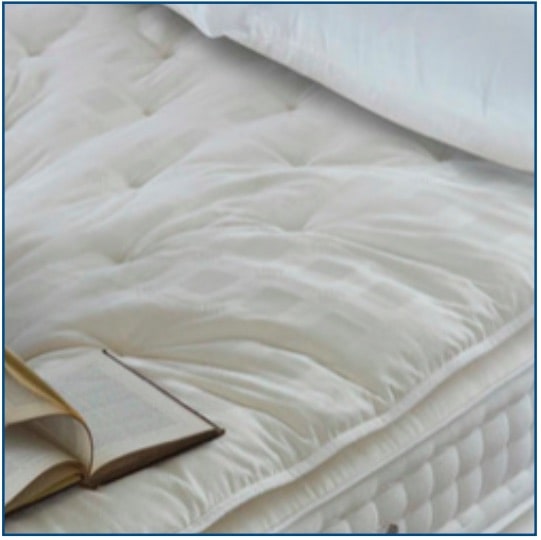 Wool and cotton or wool/horsehair and cotton mattress topper give a completely natural option. The cotton provides a level of softness to the mattress and extra breathability which is ideal of hot weather while the
wool is natural, sustainable and strong with inherent insulating and fire-retardant properties.
Advantages
Naturally soft and comfortable materials.
Very long-lasting.
Ideal for allergy sufferers who may have problems with synthetic materials.
Great for keeping cool in summer and warm in winter.
Disdavantages
More expensive than other fabric materials.
Doesn't provide the same cushioning as memory foam.
Duck down or feathers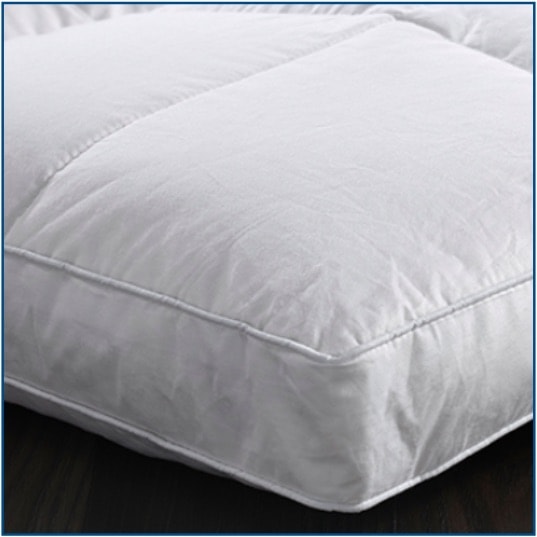 If you want a really soft option a duck down mattress topper this is the one for you. 
Advantages
Really soft – imagine sleeping on a duvet!
Very long-lasting.
Great if you have a partner who moves around a lot when asleep.
Great for keeping cool in summer and warm in winter.
Disdvantages
If you need a topper for aches and pains then this is not the topper for you.
If you are looking to add to the life of your mattress it may not be enough to die the springs!
If the quality of the cotton is not enough then you may have feathers poking through.
May need fluffing up.