Finding the perfect mattress for you is one of your most important purchases, considering the fact that you are going to use whatever you buy every single night. The recommended sleep schedule for any adult is between seven and eight hours per night, meaning that you spend roughly 31% of your life lying down on your mattress. However, while many people choose their mattress based purely on the cost and level of comfort, you should also take into account the local climate.
Some mattresses are able to store heat and pass it on to the inhabitant, making them perfect for colder climates, while others promote airflow and can help to cool people down in the hot night air. In this blog, we want to take a look at the very best locally-sourced mattress options for anyone living in Spain, looking at both hot and cold options.  On the Costa Blanca, the temperatures can be extreme – with occasional nights of -2/-3ºC, especially in the mountains and the rare summer day when the temperature reaches 40ºC and the nights not going below 25 – 17 ºC.  What kind of mattress can you get to meet these difference s in temperature?
When it comes to the firmness of your mattress choice, the general rule is that the firmer the bed, the cooler it will be to sleep in. This is because firm mattresses feature less contact with the body, providing a greater flow of air. In contrast, soft mattresses allow the body to sink into the surface more, thus featuring more contact and an increased transfer of heat. However, you can also purchase doubled-sided mattresses that feature dual temperature capabilities. In short, this means that one side is designed to be perfect for hot summer months, while the other side is designed to keep you warm throughout the winter. We appreciate that the last thing you want to do is wake up at night in hot sweats or struggle to get to sleep because of the cold. However, we are also adamant that you should not have to compromise on one or the other. Your mattress should be perfect all year round. 
Pocket sprung mattresses with thermal-regulating natural fibres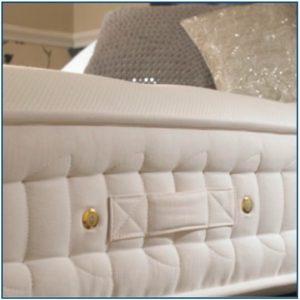 These mattresses have a soft and supportive comfort layer which provides extra warmth in the colder months, but cooling capabilities in the warmer months, giving you the best of both worlds! The thermal regulating capabilities of our mattresses make them perfect for the range of Spanish temperatures, ensuring that you always have a comfortable night's sleep.
With the natural fibres of Cashmere and wool, temperature regulation is guaranteed.
The Sandringham Mattress is available in medium or firm and can be zipped and made suitable for adjustable beds.  Made by Burgess beds in Chesire, this is a top-quality mattress that will give a long life of comfort whatever the climate and comes with a 10-year guarantee.
Locally sourced mattress with natural fibres (wool and cotton)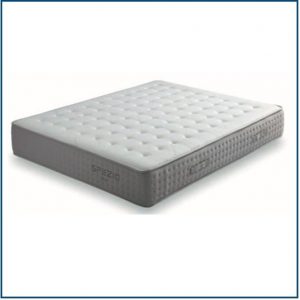 Our locally sourced mattresses, such as the Orion mattress from  Spanish brand, Spezia, are crafted from a blend of wool and cotton, offering breathable foam and thermal regulating capabilities for all temperatures. In fact, the vast majority of our locally sourced mattresses come with dual capabilities, meaning that one side is perfectly ventilated for summer and the other will keep you nice and warm for winter –  just swap over when the weather begins to turn.
With a delivery time of just 10 days and prices starting from just €393 this is a winner if you are in a hurry to get warm with the cooler nights.
Spezia is just one of our mid-range Spanish mattress brands. They offer a selection of high-quality mattresses and bases to suit most budgets making them ideal for rental properties as well as your own home.
Pocket sprung mattress with perforated memory foam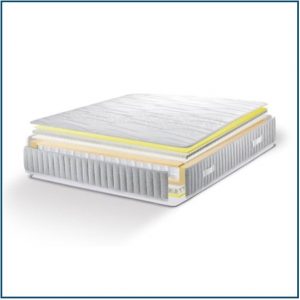 This is a high tech solution to the hot and cold problem – the Persa III mattress is the perfect answer to the changes in temperature we deal with in Spain.
Perforated memory foam is breathable and helps to eliminate any humidity by using microchambers of air. However, as it is still memory foam, it continues to provide the same level of comfort and support associated with this type of mattress. All the benefits of memory foam with none of the unbearable heat!
This Swedish mattress from Hilding Anders is just the ticket – with handles on the sides for easy turning and available in all sizes.  It starts at an amazing €337 and is guaranteed for 2 years.