Sleeping is so much more than a simple necessity – it is a pleasure that you will have every night when you choose one of our luxury beds.
A luxury bed is made up of the bedstead or base, the headboard (if not already incorporated) and the mattress. At the Bed Centre, you will find all the elements to make your bed and your sleep simply luxurious.
Start with a Luxury Mattress
Among our suppliers is the world-famous Burgess Beds. They have been making luxury handmade beds and mattresses since 1927 in Rossendale, Lancashire. With a sleep team like this, you will wish you never woke up.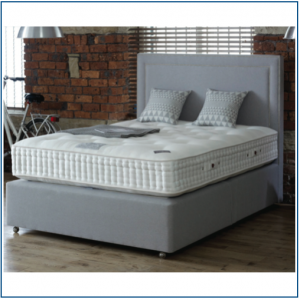 One of their most luxurious mattresses is the Savoy Mattress. This mattress uses cashmere, considered to be the softest natural hair and comes in a variety of forms. It also keeps the warmth for those cold winter nights. In mattresses, the cashmere pile forms a thin insulating layer of upholstery that is soft and warm to lie on. The Burgess Savoy mattress also uses silk which, when combined with cashmere, adds strength and resistance to the layer.
The characteristics of all these magnificent fillers combine to actually improve the quality of your sleep. High-quality sleep, of course, improves your quality of life and, based on medical research, it also has major health benefits – some even say it improves your memory and helps you lose weight! It's curious but you rarely remember a great night's sleep but you always remember tossing and turning.  Don't let your bad sleep ruin your day, get a luxury mattress and not worry about sleeping.
Add a Luxury Bedstead
With dozens of options, it can be difficult to know where to begin when choosing your bedstead. Firstly, you need to know the different types of luxury bed frames and bedsteads available. Classic panel or open-frame beds feature rails along the sides and a large headboard. They are designed for mattresses and bases, this tends to make them slightly higher off the ground.
All bed frame styles are crafted in a variety of materials with different types of finishes. Solid wood is always a great option and is loved for its hardwearing. Upholstered luxury beds bring added softness to your space. Upholstered in materials like cotton, linen, or even velvet and leather, they're rich, lush and add extra comfort. Upholstered beds can look both traditional or modern. Tufted headboards tend to feel glamorous, while contemporary upholstery in more neutral colours can add to a minimalist decor. Choose from different colours according to the look you're going for.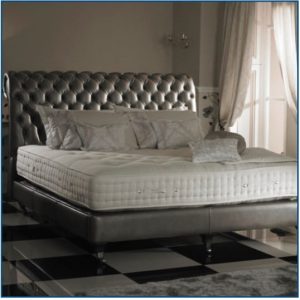 If you want to sit your mattress on a bedstead that will really add a touch of luxury and class to your bedroom you should look closely at our Chesterfield Upholstered Bedstead.  The first Chesterfield sofa, with deep buttoned, quilted leather upholstery, was commissioned by Philip Stanhope, 4th Earl of Chesterfield (1694–1773) the design has been adapted to almost all types of furniture.
This Edwardian style bed brings the comfort and momentum of a Chesterfield sofa to a beautifully carved and upholstered bed. The tufted black leather headboard is hand buttoned and diamond pleated inspired by an antique sofa. You can order it in any size.  It comes with a choice of legs to match other furniture in your bedroom.
Just need a Luxury Headboard
Perhaps surprisingly, a headboard is an essential product to have a good rest.  If you like reading or watching television in bed they are an essential part of the bed as they will support your head and neck.
But much more than this, they are a key decorative piece. A headboard dresses the main wall of your bedroom and allows you to make a point. The bedroom is the part of the house where we usually spend more of our time, where we relax and, above all, rest and so it is important that the room is a place where we are comfortable and we can unwind as necessary.
They reflect our personality and create a statement. The Bed Centre headboard range offers a wide variety of headboards to choose from. You have a choice of wool, cotton or velvet, and of course in a wide range of colours. A luxury headboard will add to the overall design of the bedroom, often being the prime colour or highlight in the overall colour scheme of your bedroom.
Luxury headboards upholstered in beautiful hardwearing fabrics are today's fashion and will add a touch of polish to your bedroom. Whether you need a bed headboard in a specific size to fit either your bed or wall, material or fixing, come into our showroom and we will give you all the information you need to choose the perfect luxury upholstered headboard to coordinate with your bedroom furniture and interior design.
The Marietta Headboard by Burgess is a great example of a headboard that will make a statement. Featured in a Mink Velvet and chrome studs with simple buttoning and contemporary wings it can be handmade by craftsmen in any height or size and choice of fabrics. This stylish winged headboard comes in huge range of colours and stud options – guaranteed to make your bed stand out.