A super soft and ultra-comfy night's rest is what everyone desires. For that to happen, it is vital to get a comfortable, supportive mattress that suits your body shape and weight. It should give you a good sleep and align with the parts of your body that are susceptible to pressure like the joints. The foam and pocket sprung mattresses are the giants of bedding, that both boast incredible performance in varied ways.
As for the UK, pocket sprung mattresses are most preferred but each nationality has its taste and preferences when it comes to these products.  When purchasing your new mattress in Spain where there is a huge difference in heat from summer to winter nights it's advisable to choose something with natural fibres as these are thermal regulating.  
Foam vs. Pocket Sprung Mattresses
Memory foam which was first invented by Nasa to relieve pressure on the body is now widely available  in a selection of memory foam mattress and toppers. These mattresses are perfect if you are feeling pressure on hips or shoulders or have an electric bed but it's best to buy a slightly firmer foam as you can sink into the softer ones which creates heat and difficulty in turning during the night. You will find most of them hypoallergenic and many have zipped removable covers.
Pocket sprung mattresses are ideal for giving your body excellent support as needed. They tend to move independently up and down and side to side to support your body's pressure points fully. You may find some models with natural fibre construction to help regulate temperatures. Thus, they offer a relaxed yet comfortable conditions during the summer. Besides, pocket springs, due to their design, limit "roll-together" especially if there is a significant weight difference between you and your partner.
Best-selling Pocket Sprung
1. Orion Mattress
The Orion is an exceptional mattresses with loads of support but with a comfortable top . It gives a medium-firm feel thanks to the natural fibres of wool for the winter and cotton which is ideal for the summer. The breathable upholstery foam and thermal regulatory memory foam on both sides make it super comfortable to sleep on.
With the tightly packed pocket sprung core, you can rest assured to get top-notch cushioning for better slumber. Moreover, the reinforced sides add to its durability, whereas the handles included making it effortless to turn or transport. Plus, a two-year warranty backs it for guaranteed performance. The best part is, this mattress is available in varied sizes so everyone can find their heart desires and has an additional bonus of 30% discount in store.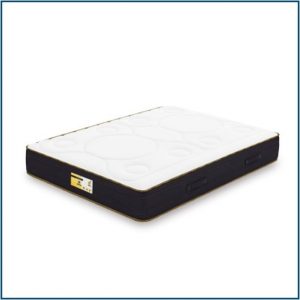 2. The Bed Centre Pocket Spring Mattress
This happens to be one of the all-time best-selling pocket spring mattresses in Spain. It features a reversible design and a medium-firm surface feel. Still, it offers excellent support suitable to relieve tension from the body's pressure points. The highly ventilated memory foam integrates with the pocket springs, guaranteeing you a comfy and relaxed feel. It is reversible, and its fabric handles make it easy to turn. 
Besides that, it has natural fibre cushioning, and a stretch fabric cover so you can expect it to last for a long time. The best part is, the mattress is also currently on an offer of up to 30% hence budget efficient.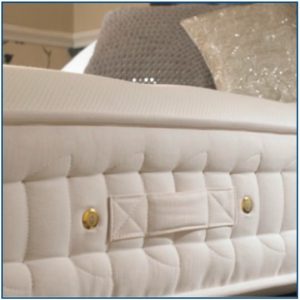 3. Sandringham Mattress
Are you looking for the most gorgeous and comfortable hand made mattress? If so the Sandringham Mattress is your go-to solution. It boasts a 3000 binary pocketed spring system designed to offer incredible support and reduce roll-together at the same time. As a result, it is the best choice for restless sleepers and ideal for different sleep positions.
The white fibre, natural lambswool filling, and cashmere silk materials offer additional comfort and help to regulate temperature. You can expect these fantastic mattresses for the Costa Blanca to last you for a long time. Thanks to the resilient natural and elastic materials used. Interestingly, the ten-year warranty assures ultimate quality performance and is surprisingly reasonably priced for this type of mattress.
For foam mattresses in Spain, we have a great selection of different types. Here are some of the most popular:
1. Viscoconfort Gel Mattress
Let your search for a comfortable, reversible mattress end with the Viscoconfort Gel. It features a compact yet high density foam core that provides an excellent balance between elasticity and rigidity without sacrificing its comfort. This mattress has cushioning that includes Oxicore that enhances breathability and a comfy feel.
Enjoy the most comfortable medium-firm feel with this single-sided memory foam mattress. It uses a 15cm high density foam core and a breathable 5cm memory foam top gives ultimate comfort. If you have a day bed or an adjustable bed, the Ergocel 15+5 Mattress is a great choice. 
Besides, the mattress boasts of viscodensity, oxicore, and fibresoft cushioning. Without a doubt, it stands out as a great foam mattress dedicated to making you feel comfortable and relaxed. Therefore, you can only think of a perfect sleeping or resting experience. The ventilated stretch, 3D fabric cover makes this mattress easy to remove and wash.
Summary
You may have the most exclusive bed, but each night will be a nightmare without a comfortable and suitable mattress. With the above article, we hope that you quickly determine what mattress type you need. Choosing between the foam and pocket sprung mattresses is never easy. Therefore, have your basis for analysis or comparisons and go for one that suits your demands.
The Bed Centre is a bed, mattresses and bed linen shop on the Costa Blanca, Spain. It is also an online shop that comes to serve a varied range of customers from all over Spain. So, you can trust us for quality, comfortable, and reliable mattresses designed with excellent materials and style and an excellent customer service.
Velvety soft topper made with lambswool and cotton.
A high quality, 200 thread count Portuguese fitted sheet in a wide selection of stunning colours.