When decorating your bedroom, a very important piece of furniture to take into account is the headboard. It stands out against the wall and will make a statement about the whole room.
A standalone headboard is cost-effective. A standalone headboard works with a range of different types of bases such as a box spring or a metal mattress stand. The advantage is though it may be a cost-effective it still looks very stylish.
Freestanding headboards can be easily attached and detached from a bed frame, making them easy to move and to switch when you buy a new bed. The flexibility is great for rental homes.
Of course, you should not confuse a headboard as a structural part of the bed – they generally won't be holding up the head end of the bed.
Two basic types of the standalone headboard are currently popular:
the metal headboard
the upholstered headboard
Metal headboards
This is a very traditional type of headboard, but it gives the room a very unique touch of elegance and romanticism. It takes to the time of the Victorian era. Today it is used in many interior decoration styles, particularly given the trend in mixing styles.
A metallic headboard matches really well with these overall looks:
Vintage
Industrial
Shabby chic
Rustic
Scandanavian
A great example is the Clara Metal Headboard a classic black nickel finished headboard that can be either fixed to any British divan or can be directly fixed against the wall. For rental properties this hard-wearing, almost indestructible headboard is ideal.
Upholstered headboards
These models of headboards are very elegant and are made of fabric, leather or imitation leather. They stand out for their warmth and attractiveness. We have a wide selection of different designs and materials you can choose from. Almost all of them enjoy a huge range of colours and sizes.
What are the advantages of our upholstered headboards?
The great Yves Saint Laurent y said that "Fashion fades, style is eternal." With a good choice of an upholstered headboard, you can achieve both. 
Neutral colours and simplicity give any room a differentiating nuance and we consider that these modern headboards will give your bedroom the personality you want to reflect, making it possible to add striking elements that do not make this space look overloaded. (See Choosing and using cushions in your home).
If you have opted for warmer colours then you will simply add to your room:
Reds, Oranges and warm browns – can mimic the beams in an older house but they are a timeless classic that can add warmth and a cosy atmosphere to any room.
Blues – Blues are all around us on the Mediterranean coast. Deep blues make for a great base colour for a rich, bold environment, while lighter, crisp and icy blues offer coolness you may be looking for in the hot summer.
Greens – While the trees might be losing their leaves and the world is switching from lush greenery to rustic reds, that doesn't mean you have to give up green in your home. In fact, introducing yellowish and rich greens can complement the other autumn shades perfectly and create an evergreen moment throughout the wintry months.
White – A classic colour or non-colour that works well with a single wall painted in a. Bright colour. Plain white walls and ceilings, as well as crisp and clean white furnishings, have become a staple in recent years. They add to the white houses we have all around us.
Gold and Silver – want to add a touch of glam – then these noble metal colours will adjust that to your bedroom.
Headboards and reading in Bed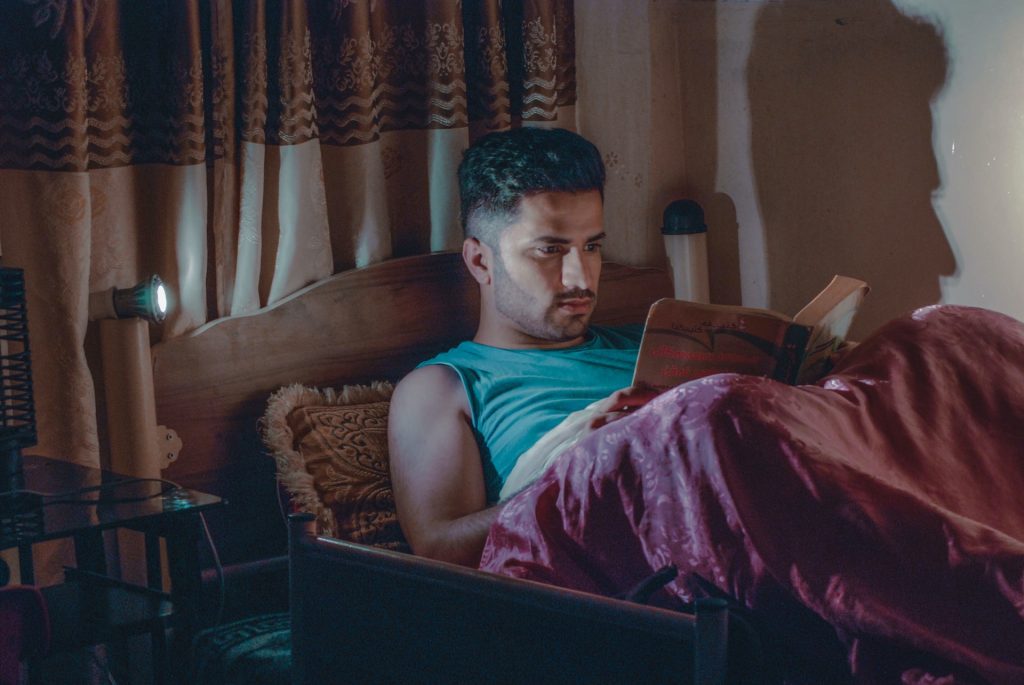 Also, for those late-night readers, leaning on a padded and soft surface will be something they will appreciate forever. Remember that you should probably not used a studded headboard so as not to get marks on your head!
Got some big puffy pillows? Pop them on your upper legs and rest your arms on those, you can also put a pillow under your thighs/knees to lift your knees a bit, this will give a bit of a tilt to the pillows on top. The given effect is just the same as one of the mentioned bed tables and better still, no storage because you'll likely be sleeping on those pillows when you finish reading.
Back support is always needed too and you should put a thinner folded pillow behind my lower back to maintain the natural curvature there and another on top for the rest of my back.
So now your back is supported, arms a nice, now all you need to remember to do is look down at the book with your eyes and not bend your neck forwards to look.