Want to know how designers dress their beds? Wish you could create that layered look at home? There is more to creating the perfect bed than picking a new duvet cover. With the change in seasons, there's no better time to refresh your room than now. 
Follow our tips for dressing a bed and you'll create a bedroom that looks straight out of a luxury magazine. 
Learn how to dress your bed like a designer with these three simple steps.
Get The Foundations Right
Even though you may not think of your bed's foundations when you're thinking about dressing your bed, they play a crucial role in the overall look.
Get The Most Out Of Your Mattress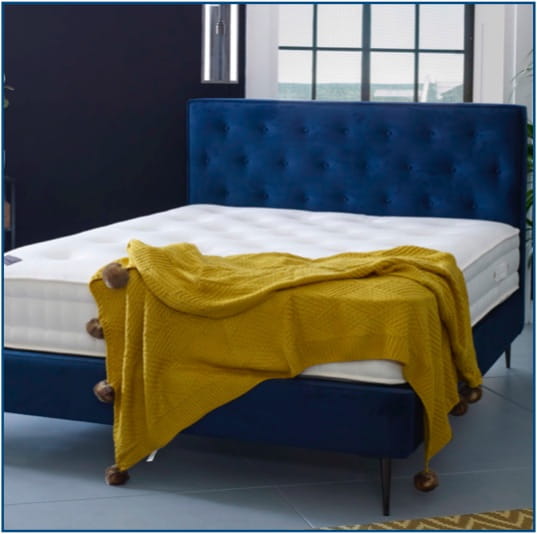 Any bed can look beautiful, but a good night's sleep is highly dependent on your mattress. When your bed does not only look luxurious, but also feels luxurious, you will love it just that little bit more. The right base for your beautiful bed linen can be found in a variety of mattress types, from pocket sprung to hybrid and foam.
You Shouldn't Forget Your Duvet
Your bed will seem extra plush and cosy if you opt for a cloud-like duvet. Select a high-quality, breathable duvet that will keep you warm in the winter and cool in the summer – an all-seasons duvet is a good choice as it offers year-round comfort. With a 4.5 tog and a 9 tog duvet included, it is easy to adjust the temperatures according to the season. 
Your beautiful bed should not only be stylish — it should be comfortable too. For a blissful night's sleep, choose between luxurious duck feathers, goose down or microfibre.
Get Your Pillows Plumped Up
Perfectly plump pillows will not only look great on your bed, they will also help you sleep like a baby. To instantly give your bedroom an opulent feel, layer two to four pillows at the head of your bed.
It's important to choose your perfect pillow carefully to ensure that you will always drift off in complete comfort since different pillow fillings create different weights, firmness, and overall feel. Read more about choosing your pillow here.
High-quality bedding is an investment
When you've picked out the perfect base, the next step is to choose your high-quality luxurious bedding. From fitted sheets to duvet covers, you can transform your bed with new bed linens, so if you'd like to refresh your bed, now's the time to give it a refresh, too!
Luxury Fitted Sheets
Starting with a luxury fitted sheet will give your bed the ultimate designer look. Choosing the wrong size sheet will cause it to ride up the sides and look untidy. Make sure the sheet you choose fits your mattress correctly.  
White fitted sheets are a great option as they look crisp, clean and go with any colour. For the most lavish of finishes, 100% Egyptian cotton sheets offer a silky soft feel and look great tucked into your bed.
Duvet Covers for a Classic Look
When combined with any other colour, white duvet covers create a timeless bedroom interior that will exude a designer look and feel. When you want your bedroom to feel bright, open, and airy without using white bedding, you should introduce a lighter toned colour palette like light grey, sage green, stone, or pastel pink.
Choosing Your Pillowcases
The perfect bed linen set includes beautiful white cotton pillowcases for your pillows. Oxford border pillowcases add elegance and texture to your space, helping to achieve that designer look.
Learn how to layer your bed like a pro
Layered pieces are the ideal solution for a boutique hotel-inspired bedroom – adding colour and sophistication with ease. There are so many ways to create a luxurious layered look, from plump cushions to soft throws.
The use of Decorative Cushions
You can introduce colour, texture, and a designer finishing touch to your decor with decorative throw cushions. In order to complete the look, use large cushions behind your pillows, while smaller cushions are placed in front.
Cushions should be matched to the colour scheme of your bedroom for an effortlessly put-together look. Whatever your style preference, whether you choose a dark shade of navy or a platinum and gold combination, you won't be disappointed.
Dress up with a throw
Over the end of your bed, drape a throw to create an elegant style. You can add character to your bed with either a bedspread or a throw, regardless of whether you like a lightweight knitted blanket, want a bit of pattern, or prefer a heavier bedspread or throw.
For an extra touch of style, drape your throw over the corner of your bed or, for a more casual look, let part of it fall to the floor.
Here's how to make your bed look like a hotel room
You can create a hotel-inspired look in your own home by choosing high-quality white bed linens that will leave the bed looking crisp and clean. In addition to this, plump pillows and cushions will add just the right amount of texture for a layered look.
Choosing The Perfect Colour For Your Bedroom
Colours should be chosen according to the atmosphere you want to create. Whether you choose neutral tones to create a relaxing space or a classic finish with rich navy blues, through the use of cushions, bedspreads and throws the colour scheme can be easily changed as seasons and trends change.