If you have a small bedroom, you're not alone-it's one of the biggest decorating problems. If you don't want to remodel, there are some tricks to make your bedroom look bigger than it is.
Make use of vertical space
If you're working with a small space, use your walls right to the ceiling. You'll use the space you've got more effectively and draw the eye upwards, making it seem bigger.
Floor-to-ceiling shelves are a great way to add extra storage, interest, and visual space to a bedroom, but they're not for everyone. You can also invest in a tall headboard and hang art or other decor over the bed, taking up as much space as you can. (See below for some more ideas).
Use multifunctional furniture
Multifunctional furniture comes in handy when you're tight on space. Find pieces that can do double duty, like a storage ottoman that can be used at the foot of the bed as a seat and as a place to keep extra blankets and layers on hand. By keeping extra bedding out of sight, you're keeping the space clutter-free, which makes it feel bigger.
Even better is the use of a wooden storage base for your bed is ideal. Here you can store your winter bedding for when the nights get warmer as well as out of season clothes.
Maintain a neutral colour scheme
Give your bedroom a calm feel with an off-white, pale cream walls, upholstered headboards in pale colours and a luxurious throw in off-white. This is a design tip that will help you sleep better every night.
Keep the scheme as neutral as possible so that items don't compete for attention and the space appears less cluttered. But feel free to add the odd warmer tone to prevent the scheme from feeling cold and clinical.
It pains me to say this, since, as you can imagine, I am a bedding nut, but small rooms require less bedding. In a tight space, a bed with a lot of pillows and blankets will seem so crowded. Rather than making the space feel serene, it will make it feel cluttered and claustrophobic.
Choose something soothing that is still luxurious, such as a soft organic linen quilt set in a subtle shade. Maintain your pillows at the head of the bed and your gorgeous throw at the foot of the bed.
The taller the headboard, the better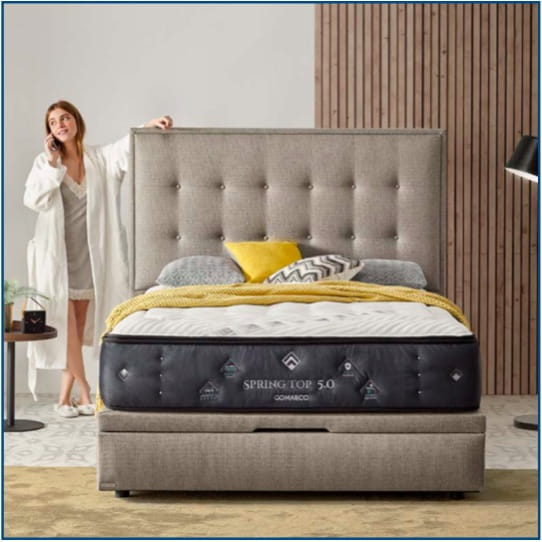 When you have a small bedroom, you can use clever headboard ideas to make it seem bigger. You don't want to fill it with a huge headboard that dominates the room – as beautiful as they are, it may not be a good choice. 
A tall, slender headboard with a slight upward curve makes the room feel taller, and its light colour contrasts positively with the darker walls.
Pick Furniture With Legs
Make the bedroom feel airy and open by adding legs to your furniture. You don't have to add legs to every piece, but make sure you have at least one item that has some height, whether it's your nightstands, dresser, or bed. A mid-century modern room looks bigger with furniture elevated on thin legs. The more floor and wall you see, the larger your room looks.
Put sconces by your bed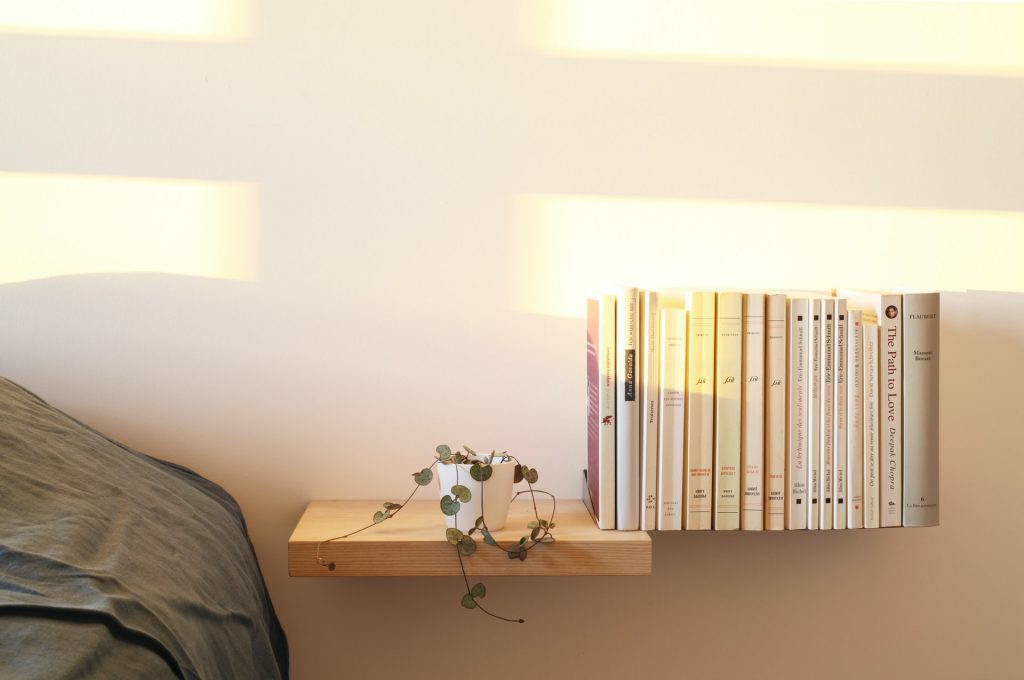 Instead of taking up space on your nightstand with ​bedside lamps, install sconces above and slightly to the side of your headboard. Sconces are those thin shelves that come out from the wall and seem as though they are suspended in mid-air.  This works to draw the eye upward, helps to give the room an open, airy look, and reduces visual clutter around your bed. 
Adjustable sconces are perfect for nighttime reading—just move the light right where you need it, and push it back when you're done.
Keep your furniture in proportion
It doesn't mean you have to have small furniture, it just means you need items that match in size and are sized appropriately for your space. A king-sized bed flanked by two tiny nightstands doesn't work.
Make sure your bed size allows you to put at least one or two nightstands beside the mattress that are big enough to stand on their own. Your dresser should complement your mattress, too. the nightstand in scale—often, a dresser that is tall and narrow works better than a wide, short piece in a small room.
Lighten up your palette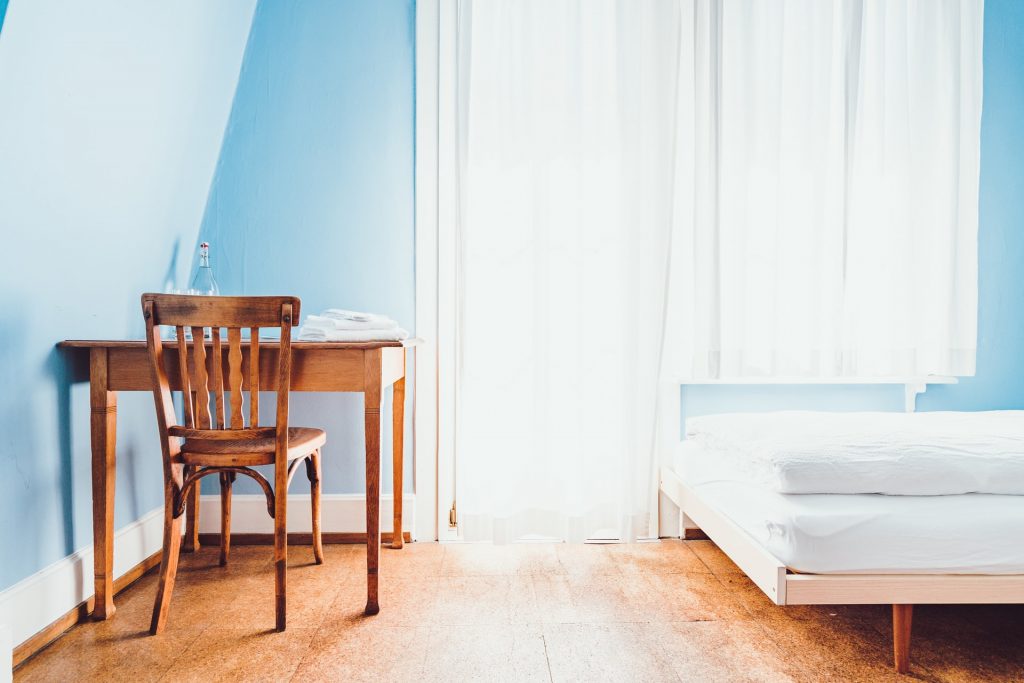 I'm sure you've heard that white opens up a room, and that is generally true. But that doesn't mean your bedroom needs to look like an operating room. You don't have to do it all in white, but it helps to stick with a soft, light colour scheme. Colours like pastels and greys work great in small spaces.
Try mixing white with a bright or mid-tone colour like the blue and white here. Cool colours help enlarge a space, while warmer hues do the opposite.
Curtains should be thin or not at all
Make the most of natural light to help make your room feel larger. If you keep your windows bare and unadorned, it will help make your room seem as if it's connected to the outside space, giving it an air of spaciousness. 
Nevertheless, if you still want some privacy, you can use curtains. However, you should choose thinner ones that allow light to shine through. Many villas and apartments are already fitted with "persianas" – those roll down exterior blinds. These are ideal as they let the light in during the day and make the room super dark at night without any need to have curtains at all!