Ah, the Costa Blanca, the beautiful stretch of Mediterranean coastline in Spain known for its sandy beaches, vibrant blue waters, and charming villages. Where we call home.
As the days grow warmer and the scent of blossoming almond trees fills the air, there's no better time to give your Costa Blanca bedroom a fresh, spring-inspired makeover. So, let's dive into some captivating ideas to rejuvenate your personal sanctuary and welcome the new season in style.
Embrace Natural Light
Can you imagine waking up to the golden sunlight streaming through your windows, gently nudging you to start a brand-new day? Maximising natural light in your bedroom not only uplifts your mood but also creates an illusion of spaciousness. Swap out heavy curtains or even the ubiquitous persianas, for sheer curtains, paint your walls a lighter shade, and strategically place mirrors to reflect sunlight and brighten up your bedroom.
Incorporate Coastal Colours
Picture the mesmerising hues of the Costa Blanca coastline—the calm blues, crisp whites, and sandy beiges. Now imagine bringing those soothing colours into your bedroom. Incorporate these shades into your bed linen, wall art, and rugs to create a serene and inviting atmosphere that transports you to the beach every time you step inside.
Bring in Nature
There's something magical about the way nature rejuvenates our spirit. Add a touch of greenery to your bedroom with potted plants, succulents, or fresh flowers, and watch as your room comes to life. Not only will these natural elements boost your mood, but they'll also improve air quality and create a calming oasis for rest and relaxation.  Use natural fibres to add an even more authentic touch. Add a touch of spring with a new smell of a new bouquet of flowers or even a good quality diffuser.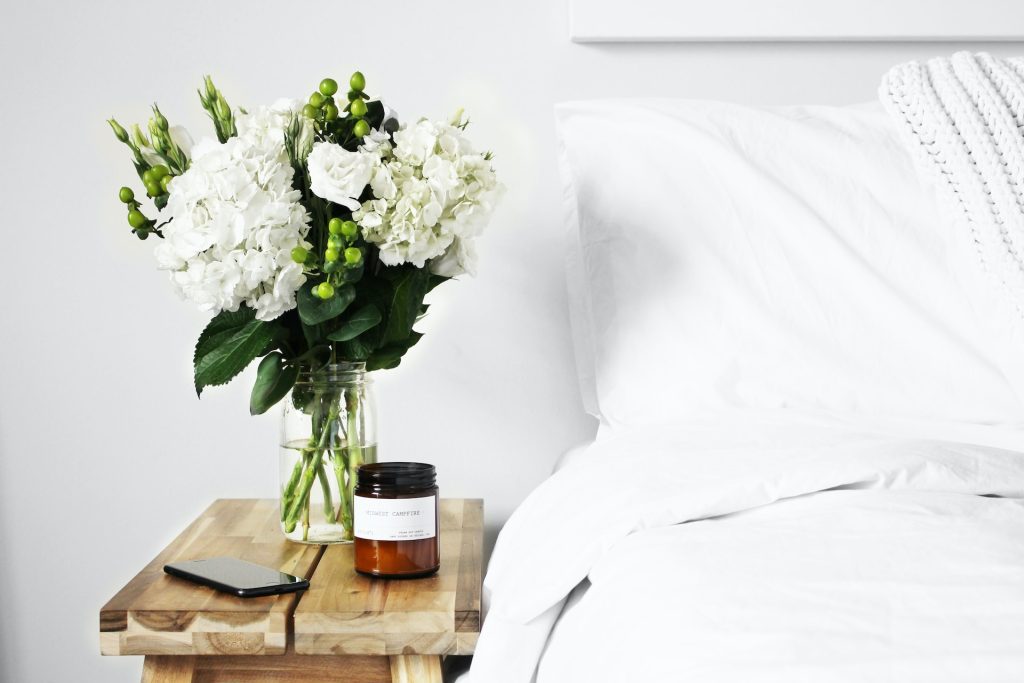 Light and Airy Bedding
As the days grow warmer, swap out your heavy winter bedding for lightweight, breathable fabrics like linen and cotton. These materials not only keep you cool and comfortable but also add a touch of effortless elegance to your bedroom. Experiment with patterned or solid-coloured sheets and duvet covers to find the perfect balance for your spring haven.
Refresh Your Artwork
Art has the power to evoke emotions and transform a space. This spring, why not update your bedroom walls with coastal or nature-inspired pieces that remind you of the beauty of Costa Blanca? Explore local art galleries or search online for unique and affordable pieces that resonate with your personal style.
Declutter and Organise
Spring is synonymous with renewal, making it the perfect time to declutter and organise your bedroom. As you let go of unnecessary belongings, you create space for fresh energy and new memories. Invest in practical storage solutions like under-bed storage and wall-mounted shelves to keep your room tidy and clutter-free.
Add Texture and Layers
Imagine sinking into a cosy bed adorned with soft throw blankets, plush decorative pillows, and a textured rug underfoot. Adding layers and textures to your bedroom creates a sense of warmth and luxury that makes it the perfect retreat after a long day exploring the sun-kissed Costa Blanca coast.
Update Lighting Fixtures
The right lighting sets the mood for your bedroom, creating a cosy and relaxing ambiance. Consider updating your fixtures or adding table lamps and fairy lights to create a warm, inviting atmosphere that soothes your soul and lulls you to sleep.
Conclusion
With these enchanting spring bedroom ideas, you're all set to transform your Costa Blanca home into a rejuvenating oasis. Embrace the season's natural beauty, let your creativity run wild, and design a space that truly reflects your personality and love for the Costa Blanca lifestyle. Happy decorating!